One crafty bride shares her wedding story with us as part of our wedding stories series.
Submitted by: JGoode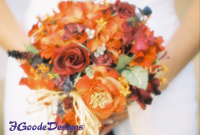 I am the:
Bride
How did you meet each other?
We met at a BBQ of a mutual friend.
What city did you get married in?
Denver
What month did you get married?
December
Did you hire a wedding planner?
No
Was your wedding?
Indoors
How many guests?
i can't remember – under 100
How many in your wedding party?
5 – MOH, BM, two ring bearers and 1 flower girl
Did you write your own wedding vows?
Yes and No
Music?
DJ
If you're the bride, tell us about your dress? Where did you buy it? Who is the designer?
I found my wedding dress at David's Bridal as we were getting ready to leave the store. They had just put it up on a display dress form while we were there. I don't know the designer.
Tell us about your wedding cake!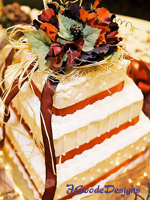 Cake was a simple 3 tier vanilla with raspberry filling and buttercream icing. We went with square cakes instead of round and we ordered it from a local grocer rather than a specialty shop – it was super yummy and so much less expensive!
Did your wedding have a theme? A color scheme? Was it on a holiday? Tell us about it!
We planned and organized the entire event ourselves, partially out of budget necessity and partially because I am a crafty, creative over achiever. I was able to make every aspect the way I envisioned without spending out of budget. We wanted to get married in October but that was a bit too quick so instead we planned a December wedding with autumn colors… gold, copper and deep purple/eggplant. The venue used to be an old brewery with the brick walls and pretty vintage accents It was converted into the student and event center for the college campus in downtown Denver. The room we used was two stories tall with enormous windows looking out on to the city. We hung twinkle lights and white tulle from the balcony and said our vows underneath a wood arbor covered in flowers and lights. Other decorations we kept simple by tying bows out of tulle or raffia and hanging in various locations from chairs to banisters.
A family friend sang. My dad walked me down the isle and my two young boys were ring bearers, one pulling the other in a little red wagon down the aisle.
After the ceremony, everyone went to an upstairs balcony area for a cocktail reception while the downstairs was converted into a dining area with dance floor. We served a buffet style dinner (so YUMMY!!) while the DJ played music from a list of songs which we also gave as guest gifts on CD inside our ceremony program.
One of my favorite things about my wedding were the vows. We combined traditional pre-written phrases and added in a variation of a celtic hand cermony. Neither of us have a celtic heritage, yet the words in the ceremony were perfect!
We made table centerpieces by arranging empty wine bottles, silk flowers and raffia in wooden baskets. I made most everything involved in the wedding from invitations and programs to decorations. I made both the maid-of-honor and flower girl dresses, all floral arrangements, boutineers, corsages and bouquets. I even made the floral cake topper for my wedding cake and the veil I wore with a pretty tiara I had purchased. I loved the result but would not recommend to anyone to take on that load alone!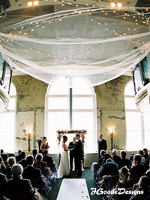 We ended the night be leaving the venue in a horse drawn carriage… very princess-esgue for a non-princess girl. I loved it!
Fun side note: Rather than head straight to the hotel for the night we met up with friends and family at a local bar downtown and played pool til the wee hours. It was so much fun hanging out in a wedding dress (this coming from a girl that lives in jammie pants and t-shirts). I figured I won't ever be wearing it again, enjoy it for as long as I can.
What did you spend the most amount of money on?
Food
What do you wish you did NOT spend so much money on?
Nothing I wish I hadn't spent money on, but I wish I hadn't spent time making absolutely everything.. dresses could have been purchased for less.
Where did you go on your honeymoon?
We didn't have a honeymoon
What is your favorite memory from your wedding day?
Seeing so many friends and family there to celebrate our day with us and having my grandfather there to speak. Instead of a guestbook we had a blank picture mat for guests to sign so now we have a wedding photo with all our friends and family messages framed around it.
What advice would you give to future brides and grooms?
Seriously don't sweat the small stuff. No one knows what is missing unless you tell them.
Even though I saved money making and organizing myself, our wedding still cost over 10k. If you are tight on a budget, the best thing to spend your money on is the food… your dress and the venue, they are only used once.
Find a caterer you love and work from there… everyone joins in the celebration for you, not what you spend.
Website: http://www.jgoodedesigns.com
all photos are copyright jen goode
Do you have a wedding story? Share your wedding story with us!