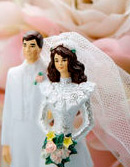 Unless you're a Kardashian, you probably don't have several million dollars to spend on your wedding day. Fortunately, the wedding of your dreams doesn't have to end up with the bill of your nightmares. You can still have a breathtaking and memorable day regardless by following a few simple rules to maximize your wedding budget. Although everyone has their own priorities for scrimping and splurging on various aspects involved in the wedding, the following breakdown will give couples a great guide for allotting the wedding funds in the most effective and budget-friendly manner possible.
Reception- 50%
Receptions are the biggest money hog of the wedding because they are usually the highlight of the entire event. To reduce the cost as much as possible, choose a date in an off-season where there will be less competition and limit the guest list as much as possible. Be sure to shop around for the best prices as well.
Ceremony- 2%
Surprisingly, the ceremony itself is going to be one of the least of your financial worries for the entire event. This is because most wedding ceremonies take place in a church or in a public venue (such as the beach, park) where the costs are significantly lower than renting out a private venue.
Apparel- 10%
The cost of apparel would include the bride's dress, groom's tux, and formal wear for all of the people involved in the ceremony. To really cut down costs, the bride could borrow a family dress for a sentimental touch to the wedding apparel that's budget-friendly as well. As a general rule, you will want to order all formal wear from one place to qualify for bulk discounts.


Entertainment- 10%
A good portion of the entertainment costs will come from hiring a DJ to play music at the reception. However, couples can choose other forms of entertainment as well, from live music performers to professional dancers. Although live performances can be fun, DJs are usually the cheapest way to go about it. To cut costs, choose a DJ that is closest to the area of the of the reception.
Invitations- 2%
Wedding invitations may seem simple enough, but when you multiply it by all the guests you intend on inviting, it can end up getting pretty expensive. If you're an extra creative person, you can probably get by making the invitations all by yourself with the help of a few other creative friends. Spend a day at a craft store and make a few designs to personalize the look and save yourself some money.
Photography- 12%
Photography and videography costs a bit more than most bride and grooms anticipate, but the cost is well worth the lifetime of preserved memories and captured moments from the big event. Although it may be tempting just to make due with mom's digital camera photos, you won't get the same lasting enjoyment as you would from hiring a professional photographer to capture the moments in high quality at your wedding. Prints are also included in the cost, so you can give out copies to the family and hang a few in your new home.
Flowers- 8%
Eight percent seems like a lot just for flowers, but they really do make a big difference to the overall mood of your wedding. The cost of flowers accounts for both bouquets and decorations, so it's a pretty reasonable cost when considered in those terms. To cut costs, consider the time of year with the flowers you prefer to determine how easy they will be to acquire– this has a tremendous effect on cost. Also, incorporate more greenery into the arrangements since these are much cheaper than the flowers themselves.
Rings- 2%
In terms of percentages, the wedding rings should only amount to approximately 2% of the overall wedding cost. This may seem like a small amount, but nice rings really aren't as expensive as they're made out to be. Many couples just choose to have bands without a gem in the center to cut down costs. Remember: you don't have to go to Tiffany's to find a gorgeous ring.
Transportation and Parking- 2%
This category will apply for couples who prefer to rent a limousine or other luxury vehicle for the event. Although it may seem lavish, the price for renting these vehicles is fairly reasonable and is certainly worth splurging on for your special day. Parking may also be a factor for a long list of guests, but will most likely included in the venue price.
Gifts- 2%
You want to leave your guests with nice wedding gifts to commemorate to occasion. Most couples choose gifts in the form of picture frames or little gift bags with miscellaneous items. Gifts are typically inexpensive and they let your guests know that you appreciate their attendance– and the gifts they got you as well.
About the Author
Marty Rosenthal is a freelance writer / event specialist who plans and writes about weddings in the Philippines.