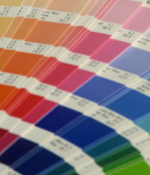 With a huge spectrum of colors to choose from, how should you choose the perfect ones for your wedding? By following these tips, your wedding color combinations will reflect your style and personality. Don't get overwhelmed by the large variety of colors on the wheel, the way to have a wonderful wedding color combination is to understand the connection between two colors. Below you will find some tips from Digby & Rose in Washington DC about choosing your wedding colors. Pick your favorite shade and go from there, you don't need a wedding color planner or an art school degree.
1. Start With the Wedding Venue
Factor in the wedding venue when picking your color scheme. For example, if you are getting married at a beach setting, a good color choice is blue. Blue is a great hue that compliments many other colors, such as greens or yellows. But some sites can be tricky to match. If you're getting married at a country club that is decorated with Victorian colors, such as maroon, you obviously should not pick pink, as it would clash terribly.
2. Seasonal Inspiration
Seasonal weddings are the easiest to work with when it comes to colors. They say Mother Nature is always right, so take inspiration from the outside surroundings of the particular season. For spring and summer affairs, pinks and pastels are always in fashion but will look washed out during the winter or fall seasons.
3. Research Your Colors
Scour sources for different color combos that are pleasing to you. You can do this online and in magazines' interior design and fashion mags always have the most up-to-date trends in colors and all the latest must-have wedding color schemes.
4. Get Swatches
You can visit a local fabric store or paint shop to gather color swatches that you are considering using as your wedding colors. This is a great aid for brides, and it will help chose your specific shade of color, whether it's baby blue, royal blue or navy.
5. Pick a Dominant Shade
First, begin with one color, for example, kelly green, and then pick colors around that shade that will compliment and accent your dominant color.
6. Take Advantage of Paint Websites
Visit online sites of paint providers such as Sherwin-Wiliams, Glidden, Benjamin Moore and Behr for interactive color wheels. Here, you can virtually "paint" a room with any color of the rainbow, so take advantage of this free service to see how your color scheme will come together at your wedding.
7. Set a Mood
What do you want the mood to be for your day ' romantic? Celebratory? Regal, peaceful or high-energy? Figure this out, and your color scheme can fall easily into place. For example, a summer wedding can use a chocolate-brown paired with a sunflower yellow for a country house feel, and just adding gold accents to the combination can set a regal mood.
8. Put It On Paper
For your wedding stationary, search for hues that express your flair and show off your style. Make sure they match with the reception's color theme.
9. Switch It Up
If for some reason, you just cannot decide on color scheme, you can get around this if your reception venue has multiple rooms. Each can have its own color palette, but don't get too carried away, choose different shades of on color so it doesn't look like a rainbow exploded.
10. Flower Notes
Research the different types of flowers you like, as these are the most obvious, and prettiest, way to add gorgeous color to your wedding. But beware' if your color scheme is different shades of blue, your flower choices are going to be severely limited.
11. Linens
For your tables, look in wedding magazines and party rental catalogs or websites for the colors they offer for table cloths, napkins and overlays. Figure out a china pattern, table accessories and table cards that will accentuate your color scheme but not overwhelm it!
12. Light Bright
Make sure your wedding venue has adequate lighting available. On the night of the event, you don't want to find out that the lights are too dim and no one can see the color scheme, tables or each other! Talk to the venue or designer about different lighting colors you can use to highlight floral centerpieces and soften the room.
13. Drive Home Color
There is something to be said about the simple elegance of repeating color, from the doorway trimmings to the floral centerpieces, to the table cloths and linens, decorate all these things with a simple ribbon accent in your signature color to give your wedding that extra something rather than a huge, gaudy display in one color.
14. Consider Every Element
Last, but certainly not least, consider every factor when deciding on your final color scheme. This includes considering whether certain colors will look flattering on your bridesmaids, as they are an important accessory to your wedding. Not everyone can pull off certain colors, so choose wisely.